A #26 teaser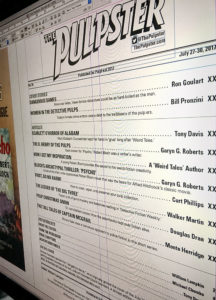 I'd promised a rundown of what's in the upcoming number of The Pulpster in the previous entry. Head over to the PulpFest website for a short teaser that posted today.
We're just a month away from PulpFest 2017 in Pittsburgh, Pa. As you can see by the photo at right, The Pulpster is still a digital work-in-progress, but it's coming together quickly. It's due at the printers in early July so that it will be ready in time for the summer's biggest pulp convention.
The production process is far enough along that you can read about some of the issue's contents over in the PulpFest post. You may be able to glean a bit more details from the photo above.
I'm excited about the issue. It's got a great mix of articles, which should appeal to every pulp collector. A special thanks goes out to all of our contributors. (I should mention that it's not too soon for you to start thinking about contributing to the 2018 number.)
The complete contents of the issue will be added to the Back Numbers section after publication.
For those of you who will be attending PulpFest, you'll have the latest number in your hands at registration. For the rest of you, keep watch here for details about how you can purchase a copy of number 26 (assuming there are any left over following PulpFest).
Now, back to work!