Paul A. Carter: 1926-2016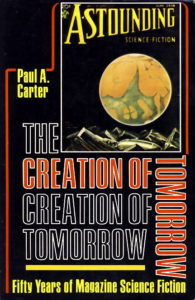 Pulpster Paul A. Carter, a science-fiction author and historian, died on Monday, Nov. 28, 2016, at the age of 90.
In addition to his fiction, he authored a history of pulp sf, The Creation of Tomorrow: Fifty Years of Magazine Science Fiction.
He was born Sept. 3, 1926, in New Bedford, Mass., and died in Kingman, Ariz., where he lived.
A short obituary appeared last week on Yellowed Perils at ThePulp.Net.